Access to Justice
We believe access to justice is a fundamental principle of the rule of law and democracy, and necessary in the respect for human rights.
We are working towards justice systems that use a rights-based approach. This ensures people can protect themselves against rights violations, raise issues of discrimination, repair civil injustices, hold decision-makers accountable, and meaningfully challenge charges against them in criminal proceedings. While access to justice is fundamental to everyone in society, we focus on improving access for the most vulnerable groups in society as these groups in particular continue to face barriers in exercising their rights.
Key barriers in accessing justice include the lack of awareness and knowledge about vulnerable groups' specific rights, the failure to address existing gaps in legislation and policies, and insufficient coordination among key justice-chain partners. While the nature of these barriers that prevent individuals from having access to justice differs per context, we believes that the application of a rights-based approach in justice systems is the fundamental starting point in addressing such barriers for vulnerable groups in justice processes.
How we are working to

increase

access to

justice
We work with various partners involved in the development, implementation, and oversight of the justice system. By using our wide network and bringing together different actors from throughout the system, we contribute to far-reaching and impactful change. Specifically we work with:
Governments (Ministries of Justice and Ministries of the Interior), by supporting the adoption and ensuring effective implementation of rights based approach policies and procedures for the justice system;
Justice chain partners (police, prosecution, judges, lawyers, judicial training centres, civil society, etc.), in improving coordination between each other as they apply a rights based approach for vulnerable groups entering/in (criminal) justice system;
Human rights institutions, equality bodies, civil society, and lawyers to advocate with justice chain partners and relevant government institutions on the application of rights based for vulnerable groups entering/in (criminal) justice system.
Our record: Sidita Zaja on how

cooperation

between

civil society

and the Albanian

police

improved

: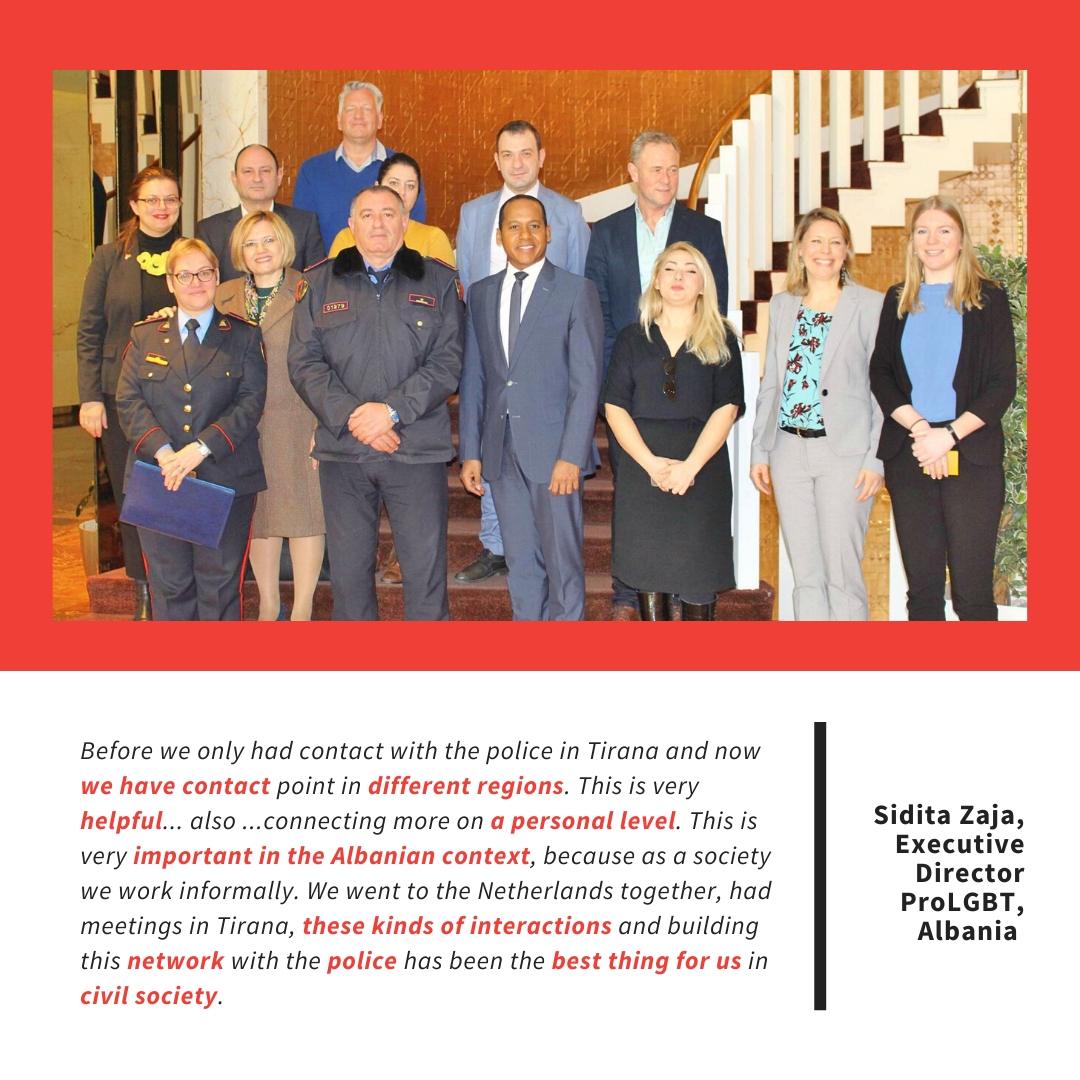 What are

vulnerable

groups?
While access to justice is a fundamental right for everyone in society, vulnerable groups are those that continue to face barriers in this regard. This can be a result of the lack of knowledge on the specific rights of these groups. These groups include, among others, victims of trafficking and forced labour; the LGBTI community; immigrants and minority ethnic groups; Roma; victims of gender-based violence; children in conflict with the law; and persons with disabilities. Importantly, individuals in these groups are not inherently vulnerable. Rather, individuals in these groups are rendered vulnerable due to social conditions. While these groups differ significantly in size and the nature of their vulnerability, they have something in common: the lack of a rights-based approach in the justice system marginalises them and further compounds their existing vulnerabilities.
While our work aims to improve access to justice for vulnerable groups in general, we are currently working on the following projects:
Our past projects include:
Working together
We believe no one can achieve things alone. That is why we see the power of connecting different actors and collaboration as we work towards building and securing justice across Europe. If you are interested in collaborating with us in improving access to justice, contact the Programme staff below:
Programme Staff: