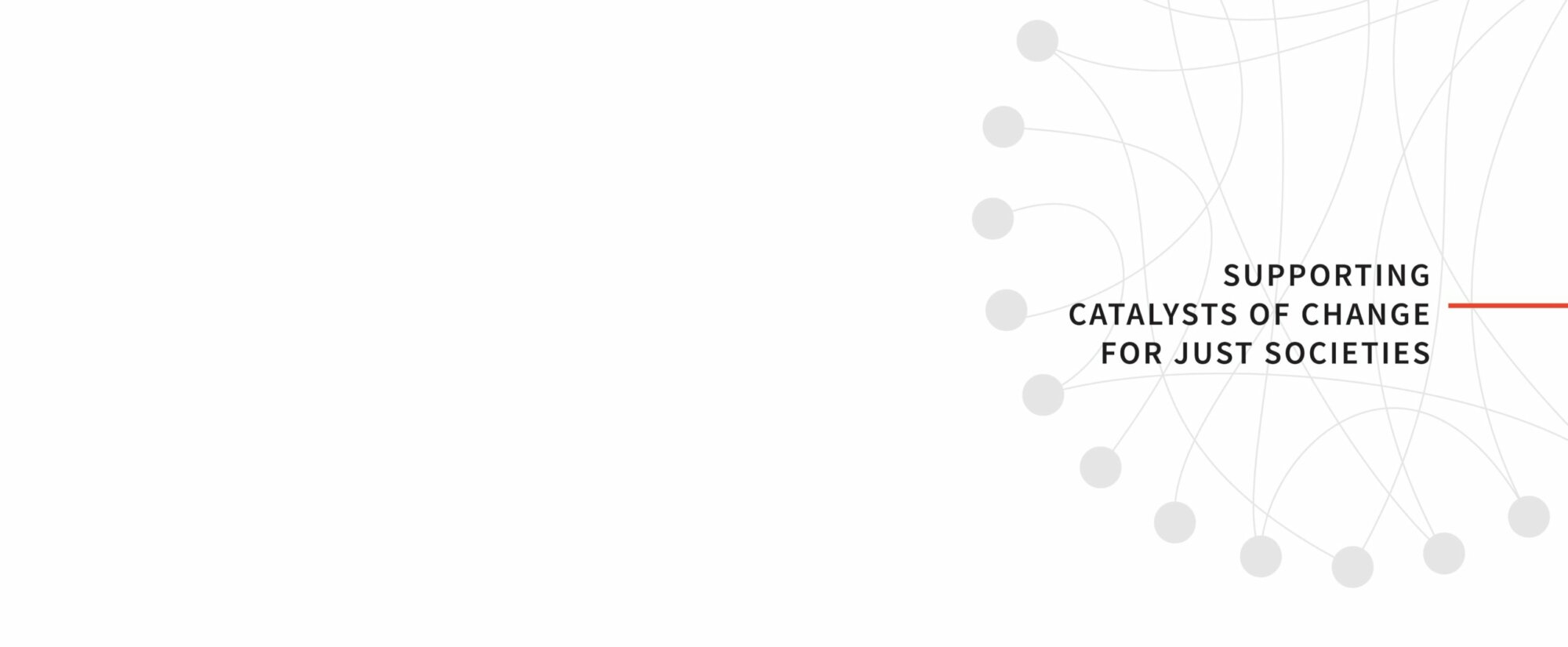 Mission & Strategy
Supporting Catalysts of Change for Just Societies

In wider Europe today, more and more people are confronted with backsliding of the rule of law and violations of human rights. We face a fundamental challenge of peaceful coexistence on our continent and this has direct and sometimes destructive consequences for citizens, as we can witness on the news every day.
At the same time, catalysts of change can be found everywhere. Even under the most difficult circumstances, brave citizens are standing up for fundamental rights and justice, fighting against existing power structures which perpetuate inequality. Building on our track record of 35 years, we consider it to be our mission to inspire, engage and support these catalysts of change in building just and rights-respecting societies.
We want vibrant civil society organisations that raise their voices in defence of human rights. We want our governments to be held accountable and act with integrity. We want independent, inclusive and humane justice systems that put people first, especially when they are marginalised or historically underrepresented in decision-making. These areas form the cornerstones of our work.
Everybody can be a catalyst of change, and we are ready to support them by strengthening their capacities and by amplifying their voices through advocacy and campaigns. Our networks reach out to civil society, governments as well as the justice chain. With the catalysts of change from these sectors, we are able to mobilise the right peer-to-peer expertise and build bridges between them. Together we stand strong for human rights, the rule of law and justice in wider Europe.
Read the current strategy here:
The H in NHC: The Helsinki Process Explained
The Helsinki Process describes events culminating in the signing of the 1975 Helsinki Accords and follow up process. The Accords are the founding documents of the OSCE and contained the ground-breaking concept of comprehensive security. This is the notion that real security is achieved by building democratic, free, and rights-respecting societies (human dimension), combined with furthering social-economic cooperation and security (economic dimension) and with military trust-building and non-violent conflict resolution (political-military dimension). The human dimension created an environment in which domestic human rights violations could be held politically accountable at an international level. It is also intrinsically connected the notion of security to human rights and the rule of law.
The inclusion of representatives of civil society in the discussions, both at the founding conferences, and today in the framework of the OSCE, allows these actors to hold governments accountable for implementing the 'principles of the Helsinki Accords' as part of the wider Helsinki Process.
Today the OSCE contributes to the reduction of tension between participating states. It is a platform for dialogue between states providing security in disputed areas and a platform for dialogue between states and civil society, where the NHC actively participates.