Start of the Matra RoLT Training Programme 'Human Rights and Minorities'
12 September 2017
Start of the Matra RoLT Training Programme 'Human Rights and Minorities'
On September 13th the Matra RoLT Training Programme 'Human Rights and Minorities' will commence. During  a 10 day training programme participants from Serbia, Albania, Bosnia Herzegovina, Macedonia, Georgia, Montenegro, Ukraine, Moldova and Kosovo will increase their understanding of the main challenges human rights face and how to better protect them.
The Netherlands Helsinki Committee organises the RoLT training sessions together with its partners Leiden University and the The Hague Academy for Local Governance. Harry Hummel, Associate Policy Director at the NHC, discusses the main issues the programme will touch upon.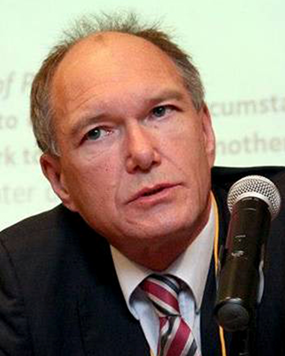 The participants of this programme will learn more about the procedures related to integrating human rights standards in national legislation and judicial practice. Can you talk about what kind of things they will learn and the methods that will be utilised?
Let me begin by describing the challenges human rights implementation faces. Many international human rights treaties and other formal documents have been created by the UN and the Council of Europe. They have been widely subscribed to. This does not mean, however, that they are automatically implemented. Implementation often requires more active steps on a national level. These treaties need to be adapted into legislation, policies and practice. Legislative initiatives should always be checked in order to see if they comply  with human rights standards. It is important that people have the option to complain or go to court to claim their rights. If this possibility does not yet exist, it needs to be created. This can mean that social or educational policies need to be improved in a country.
This specific Matra RoLT training course consists of lectures, visits and discussions. The participants will meet experts and people  who work in the field of human rights. These people can work on the implementation of human rights, for example at the Ministry of Interior or the Ministry of Health, Welfare, and Sports or at the Ministry of  Education. Furthermore, people working at the Ministry of Culture and Science, at the National Human Rights Institute (College voor de Rechten van de Mens) and the National Ombudsman are also involved in the training programme in order to convey their valuable knowledge and experience to the participants.
During the course attention is given to the relationships official state bodies have with civil society organisations that operate in the field of human rights protection. Furthermore, the course sheds light on the practical application of equal treatment principles, related to the work of the participants.  Lastly, theory, practice and the way change can be achieved will be discussed as well. also be on the agenda for discussion.
How can government policies try to eliminate unequal treatment on the basis of gender or sexual orientation and what is the role of civil society in this?
Governments should have a legislative framework that ensures equal treatment and prohibits discrimination. These frameworks should include an infrastructure that provides the possibility to submit complaints and go to court.
Institutions that deal with possible perpetrators or victims of discrimination should train their personnel so they know how to react in a situation when discrimination occurs. Police officers for example should know how to respond to (victims of) hate crime or to gender-based violence.
In addition, different parts of society, for example the medical world, the educational system or employers, should be aware that discrimination on the basis of gender and sexual orientation can occur and should understand how this kind of discrimination can affect their sectors. People should know what they can and should do about these types of discriminatory acts. Organised civil society groups, for example trade unions, employers associations, professional associations, associations of patients, disabled persons, or students and their parents, can play a role in combatting discrimination as well.
When human rights are integrated in policies and practices they will be more effective. It is important that underprivileged groups get the attention and treatment they need.
Why is it so vital that the participants learn more about these policies?
Every country should have a number  of policies and procedures that serve to protect and stimulate human rights. Furthermore, a country should be able to monitor and report on human rights developments. The majority of  the participants' countries are in a process of  becoming a member of the European Union. The EU requires pre-accession countries to comply with a certain infrastructure with regard to the rule of law and human rights.  The Association Agreements with Georgia, Moldova and Ukraine also demand(that these) countries fulfill these requirements.
How will you monitor if the lessons learnt during the programme will be implemented once the participants return home?
The participants are civil servants working at various ministries in their home countries. They are all actively involved in shaping human rights policies. Some of them work at independent institutions created by the state, such as the Ombudsman offices. An obligatory element of the course for the participants is to draft a so-called Back Home Action Plan. In the plan the participants describe what kind of steps they will take to improve the human rights situation and what kind of actions they will undertake as professionals to make sure necessary changes are realised.  Evaluating if these action plans have been successfully implemented will be done during special encounters one year after the training programme.