Stories That Need to be Heard: Virtual Exhibition Launch
22 December 2020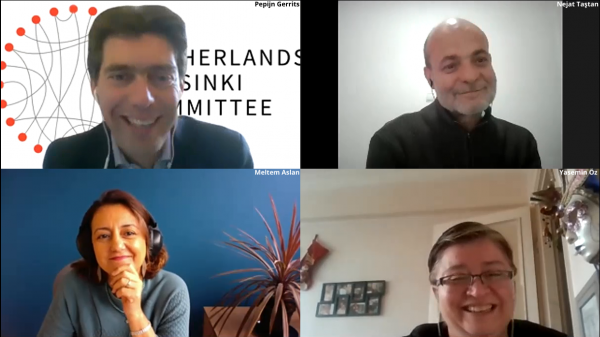 Throughout Turkey's volatile political history, it has never been easy to defend human rights. Some minority groups have always faced pressure and at risk. However, the situation since the coup attempt of 2016 puts all human rights defenders (HRDs), irrespective of their field of work, at great risk. Terrorism and libel charges are widely used by the Turkish authorities against HRDs. Today, Turkey has become an increasingly restrictive environment, with rights and the rule of law significantly undermined: thousands of journalists, academics, and government critics have been threatened, fired, imprisoned, or charged with terrorist or treasonous crimes.
The Campaign
Behind every threat, arrest, or trial is an individual, with a unique, personal experience that needs to be told and heard. In solidarity with HRDs throughout Turkey the NHC developed the "Stories that Need to be Heard" project in September 2018. Featuring portraits painted by Marco Lambooij and stories recorded by journalist, Tan Tanalı, the campaign showcases the efforts of 20 individuals who continue defending rights despite the increasing difficulty and mounting pressure posed by the government.
The Exhibition
On 14 December 2020, the NHC launched a virtual exhibition of these stories at www.hrdstories.org.
The Event
To celebrate the exhibition's launch, the NHC organized an online event with three of the featured defenders – Meltem Aslan, Nejat Taştan, and Yasemin Öz – who shared their personal stories of defending human rights in Turkey.
NHC Executive Director Pepijn Gerrits kicked off the event by presenting an overview of the concerning situation in Turkey:
Even though Turkey was once a promising example of democratic reform, the situation in Turkey is now very worrisome. Human rights activists are increasingly marginalized or persecuted for the peaceful and legitimate human rights work that they do. – Pepijn Gerrits
The first speaker, Meltem Aslan, is co-director of Hafıza Merkezi—an organization that investigates gross violations of human rights and supports survivors in their pursuit of justice in Turkey. She was taken into custody and interrogated in November 2018 for allegedly being involved in a hierarchical structure with Osman Kavala in attempting to overthrow the Constitutional order of Turkey.
In her opening remarks, Meltem introduced the audience to the reality that HRDs in Turkey face every day. Torture in prisons, which was believed to be a thing of the past, has resumed and police violence has increased as an instrument to exert pressure and oppression. Yet these and similarly repressive developments are rarely covered in mainstream media. Meltem reflected on the fact that the generations which experienced the 1980 military coup and its aftermath carry the burden of a society that experienced gross human rights violations and great violence. Meltem explained that while there is immense pressure on her organization for its efforts to seek accountability for violations of human rights, she also feels this pressure personally: every Thursday night, Meltem—labeled by mainstream media as 'the wife of a dissident journalist'—and her husband wonder if one of them will be taken into custody the next day—the preferred day of the police for such operations. But Meltem also underscored that this constant worry is one that all human rights activists experience in Turkey, where at least one HRD is taken into custody every week.
Building on Meltem's remarks, Nejat Taştan emphasized that this is the harsh reality faced by all HRDs in Turkey. A board member of the Association for Monitoring Equal Rights, Nejat has been defending human rights in Turkey for over thirty years, and currently focusses on upholding the rights of vulnerable groups. He is also one of the defendants in the so-called "Istanbul 10" trial against a group of human rights defenders who were taken into custody during a digital security training in 2017 and are facing terror-related charges for their human rights work. In his remarks, Nejat explained that the government of Turkey widely uses terror-related charges to silence the opposition: "In Turkey, it's very easy to be a 'terrorist.'… There is a variety of categories. For example, someone who discusses the economy or the value of the Turkish Lira can be labeled an 'economic terrorist' and someone who expresses his/her opinion on social media can be branded a 'keyboard terrorist,'" he continued. Nejat highlighted the great legal uncertainty in Turkey, a gap that HRDs are trying to address, only to fall victim to it themselves. But in concluding, Nejat stressed that injustice does not only happen to HRDs, but can happen to anyone in Turkey. "Turkey is a country that does not recognize its own laws or its own Constitutional Court's rulings. It has a politicized judiciary and acts as a police state," he explained. He emphasized that the story of the Istanbul 10 defendants is merely a drop in an ocean; the full picture includes the story of Rabia Naz's father, who is trying to access justice for his daughter who died in a traffic accident. It's the story of Berkin Elvan's parents, who seek justice for their son who was killed during the 2013 Gezi Protests. It's the story of Oğuz Arda Sel's mother, who is seeking justice for her daughter who died in a train accident, and it is the story of Kemal Kurtkurt's family, who are seeking justice for their son who was killed during Newroz celebrations.
A lawyer, feminist, and LGBTI+ activist, Yasemin Öz, contributed to the foundation of the LGBTI+ rights movement in Turkey. She is also one of the founders of Kaos Gay and Lesbian Cultural Research and Solidarity Association (KAOS GL). At the event, Yasemin recounted that her earliest memory is of being at a meeting of the opposition, at which people were demanding the removal of death sentences from the Criminal Code. As this example suggests, Yasemin's upbringing was grounded in human rights. She explained that she became disillusioned with the government at a young age, having seen her uncles sent to jail (and subsequently tortured) during the 1980 military coup. Yasemin was just six years old when she learned the hard lesson that the Turkish state can be very dangerous and can even willfully harm its citizens, even when they have done nothing wrong. Around the same time, Yasemin realized that she was lesbian. In an attempt to make more sense of the world she was living in, she read feminist and leftist books. In the 90s, she discovered a magazine publishing on LGBTI+ matters. She shared, "I was shocked and found them so brave. They were accepting it [their LGBTI+ identity], telling it and publishing it. They were letting society know about it. I joined their meetings and became an activist in early 1995." She became more actively involved with combatting women's rights violations in the 2000s. Reflecting on her work, Yasemin noted that there have been two successful movements in Turkey: the feminist movement and the LGBTI+ movement, "because they are peaceful," she stated. While no more than 20 people attended the first Pride Parade, there were more than 100,000 participants in 2013, although all marches were banned thereafter. In 2017, all LGBTI+ activities were banned in the capital, Ankara. Despite the increasing pressure on the community, Yasemin stressed that, "they [the government] can't kill the LGBTI+ conscience that exists in society now. People know about the identity, and they cannot stop that in this age of technology and digital communication."
They [the government] can't kill the LGBTI+ conscience that exists in society now. People know about the identity, and they cannot stop that in this age of technology and digital communication. – Yasemin Öz
Despite mounting pressure and threats, Meltem, Nejat, and Yasemin remain optimistic and committed to defending human rights. As HRDs, they do not always think positively; as Meltem explained, "we are human, sometimes we are scared, feel despair or discouraged. But for me personally, I would not know what else to do, I cannot not do something about the things that are happening around me".
We are human, sometimes we are scared, feel despair or discouraged. But for me personally, I would not know what else to do, I cannot not do something about the things that are happening around me. – Meltem Aslan
Nejat echoed this, underscoring that he does not think of himself as courageous and that he worries for his friends and family, as well as for himself. However, for Nejat too, defending human rights has become a part of his life. Seeing initiatives around the country, where people stand up for their rights in whatever shape or form is what gives him the motivation to continue fighting the good fight. Yasemin agreed, adding that it is the combination of not feeling alone and learning to completely believe in the righteousness of what they are doing that keeps her going.
Read Meltem, Nejat, and Yasemin's stories and that of 17 other Turkish HRDs at www.hrdstories.org.